Your Premier Dallas & Fort Worth Area Hyundai Dealership
Searching for a Hyundai dealership near North Richland Hills, Fort Worth, Grapevine, Bedford, Euless, and Hurst? AutoNation Hyundai North Richland Hills is your premier Hyundai dealership in the North Richland Hills area. Our dealership features an extensive inventory of new and used Hyundai vehicles for sale, exclusive lease and finance specials, a state-of-the-art service center, and an experienced team of Hyundai enthusiasts ready to assist you with any request you may have.
AutoNation Hyundai North Richland Hills is currently undergoing a remodel, but we will continue to serve customers at our current location for both sales and service. We look forward to your visit, and we can't wait show off our newly remodeled dealership in the near future.
Step into our showroom and you are immediately greeted by our latest and most inspired Hyundai models. Our comfortable and relaxed environment allows you to truly appreciate the unique design and technology that makes up each and every Hyundai vehicle. We are passionate about making shopping for a new vehicle as enjoyable and worry-free as possible. When you find a Hyundai you are interested in, we will happily help you take it for a test drive and teach you about all of its exciting features. No longer does financing a new or used vehicle have to be a stressful process. Regardless of your credit situation, we will help you thanks to our hassle-free financing.
When it comes time to service your Hyundai, the team of TechXperts at AutoNation Hyundai North Richland Hills are well equipped. Our service center features the latest tools and diagnostic equipment to help keep your Hyundai operating like new. Whether you are shopping for a new car or need to service the one you already own, AutoNation Hyundai North Richland Hills is here to help!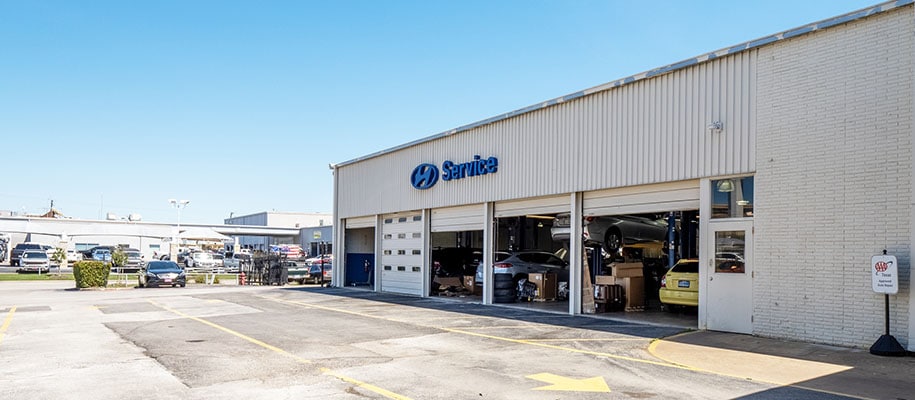 Haggle-Free Used Vehicles
In addition to an array of new Hyundai vehicles for sale, we also have a variety of other exciting used cars, trucks, and SUVs available. All of our used vehicles feature our Pre-Owned Vehicle 1Price. The price you see is the price you pay. So there is no haggling. No back-and-forth. No pressure. We've researched and compared thousands of vehicle prices to give you a great value on every vehicle, up front. The end result? You not only save time, you save money.
Learn more about our Pre-Owned Vehicle 1Price and the many other benefits that AutoNation dealerships offer.
Why Choose AutoNation Hyundai North Richland Hills?
Our team consists of only the most passionate and knowledgeable individuals who are dedicated to going above and beyond in every way possible. It doesn't matter if you are searching for your perfect new Hyundai, need assistance in servicing your vehicle or simply want to learn more about the Hyundai brand. Your visit will always be pleasant and productive.
When you have the time, we encourage you to come check out our first-class facility. With the array of incredible Hyundai vehicles for sale, along with our friendly and welcoming team, you will be sure to have a smile on your face during your entire visit. In the meantime, browse our inventory online, then give us a call at (817) 953-6549 to schedule a test drive. We look forward to seeing you soon!
AutoNation Hyundai North Richland Hills Recognized as a CARFAX Top-Rated Dealer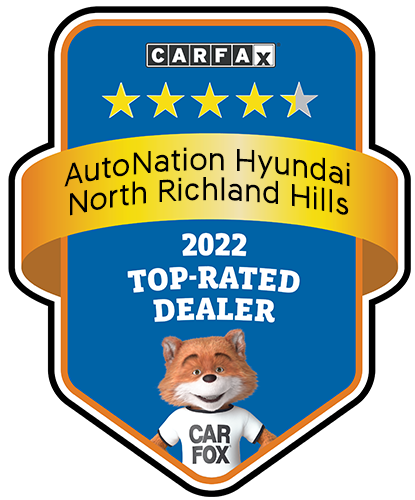 AutoNation Hyundai North Richland Hills is being honored in the second annual CARFAX Top-Rated Dealer Program. The 2022 CARFAX Top-Rated Dealers received an average of 4.6 stars out of a possible five stars. The select group of dealers are being celebrated for their commitment to building consumer confidence through exceptional service and customer care.
"CARFAX has more than 2.2 million verified customer ratings and reviews for dealerships around the country," said Bill Eager, CARFAX Vice President of Dealer Business. "The Top-Rated Dealer program recognizes the best of the best for exceptional service and customer care."
"We at AutoNation Hyundai North Richland Hills are incredibly proud to have earned this CARFAX Top-Rated Dealer recognition. It is a direct reflection of our commitment to provide the best experience possible to every customer we serve. From all of our team members, Thank You for making this possible!"
You can look for AutoNation Hyundai North Richland Hills 2022 CARFAX Top-Rated Dealer badge on the CARFAX Vehicle History Reports they provide customers.
About CARFAX
CARFAX, part of IHS Markit (NYSE: INFO), helps millions of people every day confidently shop, buy, service and sell used cars with innovative solutions powered by CARFAX vehicle history information. The expert in vehicle history since 1984, CARFAX provides exclusive services like CARFAX Used Car Listings, CARFAX Car Care, CARFAX History-Based Value and the flagship CARFAX® Vehicle History Report™ to consumers and the automotive industry. CARFAX owns the world's largest vehicle history database and is nationally recognized as a top workplace by The Washington Post and Glassdoor.com. Shop, Buy, Service, Sell - Show me the CARFAX™. Based in London, IHS Markit is a world leader in critical information, analytics and solutions